Laingsburg Michigan
Follow us on facebook for exclusive promotional deals and specials!
We look forward to serving local, national and international customers!
Rebuilt Engine Specials!
450 horse street 460 complete $6100
400 horse street 460 complete $5300
320 hp 465 tq towing 400 complete $4900
We rebuild customers engines!
See rebuild page!

If your looking for a 600cid street engine, a 900 torque truck pulling engine or just parts to build your own engine, Barnett High Performance is one stop shopping for you. We also can supply your engine at any level of completion for your convenience.

One of our happy customers with a pulling truck writes:     
This truck features an Sportsman Eliminator Products block as well as a set of the new iron cnc ported Eliminator Products heads purchased from Barnett High Performance. All Eliminator products are top quality and performance is outstanding. The Eliminator Products iron heads make this engine a combination to be reckoned with. I could not be happier with the performance of this engine and am looking forward to next season. Thanks to Barnett High Performance for all the help and support in making this truck a success.  Darren McPherson 
Specials!!!
CNC ported Air Flow Dynamics heads for flat tappet cam. $2400 plus shipping.
Heads will work on Boss 302 351c Cleveland 351 400M.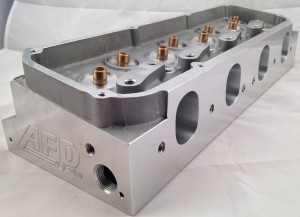 New iron Eliminator Products 429 460 heads assembled for hot street hyd roller camshaft up to .650 lift. $3000. This special only for CJHP. See the (new iron 460 heads) page on the left for flow numbers.