1000 horsepower club just got sweeter!
Now these engines run on 93 octane!
We have determined what parts work together the best and what is the most cost effective way of truly making a dynoed 1000hp. These engines run on 93 octane pump fuel have rough idle and have a peak power rpm of around 7000. These engines work well for drag racing, truck pulling and mud trucks. We also can change these engines to meet many other applications (Marine, street, supercharged elect).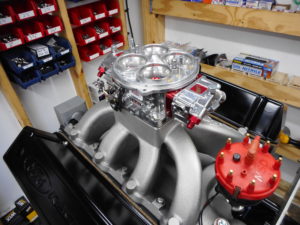 1022hp at 7000rpms 550cid big Ford
   

Example engine!
     Big Ford 598+cid
1000+ horsepower @ 6900 rpms
800+ torque @ 5400 rpms
Runs on 93 octane 
Great for drag race, truck pull, mud bogger
BHP custom grind roller camshaft
Eliminator Products block (Aluminum)
Roller cam bearings
Forged crank
Forged rods
Diamond pistons with matching rings
Romac balancer
Rollmaster timing set
HV water pump
Aftermarket oil pan
Trickflow A460 intake
Trickflow A460 heads
MSD distributor
Quickfuel Dominator Carb
$28600 complete dyno tuned engine
Optional
Vacuum pump kit installed $3200
More power yes!
Fill out our custom engine quote form for a price