FE 390-428 type engine Auto and Marine
For less expensive engines see our engine rebuilding page!
Budget 390cid
up to 400hp 430 torque
Street 93 octane
OEM block fully machined
OEM crank
Eagle rods
KB pistons
Custom hyd roller cam
Edelbrock Dual plane intake
OEM iron heads
Crate engine $8349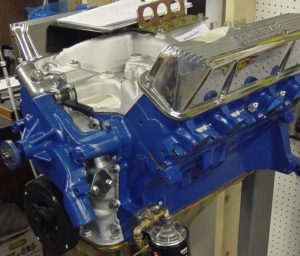 Performance 406-444cid
up to 520hp 560 torque
Street 93 octane
OEM block fully machined
Eagle crank
Eagle forged rods
Icon forged pistons
Custom hydraulic roller cam
Edelbrock intake
Edelbrock aluminum heads
Crate engine $10299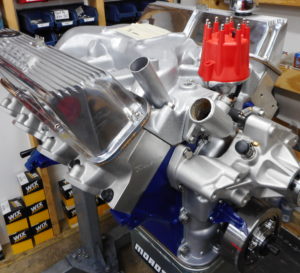 Hot street 406-444cid
up 570hp 600 torque
93 octane
HD truck block
Scat Forged crank
Manley Forged rods
Forged pistons
Canton oil pan
Custom Hydraulic roller cam
Edelbrock intake
Trickflow aluminum heads
Crate engine $15399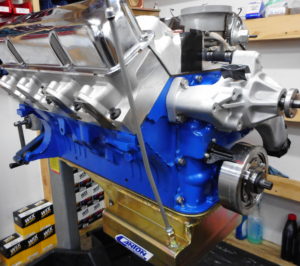 Pro Street 482-506cid

700+Horsepower 640 torque
Aluminum block 
Scat forged crank
Manley forged rods
Diamond pistons
Custom hyd roller cam 
Edelbrock intake
Canton oil pan
Trickflow
aluminum heads
MSD distributor
Race series plugs & wires
Quickfuel carb
Dyno tuned
Crate engine $24499
Call or email for a custom quote.
We also offer:
Finishing kit: MSD distributor, Quickfuel Carb, Spark plugs and wires. Starting at $700
Complete engine break-ins includes timing adjustment and carb adjustment. $600 flat tappet camshafts or $450 for roller cam. Includes oil, oil filter and gas.
Basic dyno tune $400
Holley Sniper EFI starting at $1200 installed
Super street dyno tune using O2 sensors estimated at $300 plus jets or carb spacers.
Upgraded dyno tune with forced induction, NOS or injection add $500 plus fuel