We custom crate every engine that leaves our shop. Here are some picture of our crates being built.
      Ready for the lid!!
We build crates for two engines sometimes. Our crates are built from dimensional pine wood with 1/2 osb sides and 3/4 bottoms. Our crates for international customers are made from state of the art laminated veneer lumber LVL and pressure treated plywood to insure easy customs clearance. International engines are treated with WD40 inside and out to make sure corrosion doesn't start. Then we wrap in either a big engine bag or in plastic.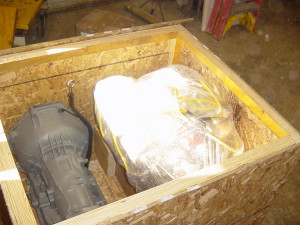 Pricing for most engine and crates from Michigan to a business with loading dock or forklift in the United States will be under $450 with the crate fee. Actual address are needed to give exact prices. Residential delivery adds $50-100 and lift gates add $75
Most international oceans shipments to port for a single engine and international crate fee will be $600-$1050
Email us for an exact price for shipping your engine.